"The transition to Forecast 5 was easy... and cost effective"
Managing an iconic brand like Harrogate Spring Water calls for an equally special financial package. Damien Wilkinson, Finance Director, chose Forecast 5 after trialing several other programs.
"I felt it stood out as the ideal way to mirror and manage our company's performance," he said. "We had been using Sage Winforecast and found the transition to Forecast 5 was easy and the enhanced functionality has been really useful and cost effective. I like it being a stand-alone package that I can use anywhere. Its easy interface with Excel means I can map sales data from many different products into our office system—and I have found Johnny Kipps to be really helpful and responsive whenever I have a query."
With a history dating back to 1571, Harrogate Spring Water has been enjoyed for over 450 years. The personal physician to Queen Elizabeth I recommended the waters for their medicinal properties leading to wealthy visitors flocking to Harrogate to 'take the waters'.
Today, Harrogate Spring can be found at the most prestigious events and venues, from Michelin-starred restaurants, onboard the world's most reputable airlines and is the official water supplier of Ascot & Royal Ascot.
Almost five hundred years represents centuries of change. Harrogate Spring Water was acquired by Danone in 2020. "This happened two weeks before the Covid pandemic, which devastated the hospitality side of our business," Damien said. "It was good to have the deep pockets of a major international player when we needed the support."
Harrogate Spring Water has been percolating through the rocks for 1,000 years and reaches the surface at 10º C, the optimum temperature to drink water. It is naturally enriched with minerals, giving it a neutral Ph and a perfect balance on the palette. The gentle carbonization of the sparkling version stops that over-full feeling and both still and sparkling come in recyclable, collapsible bottles with a unique diamond design. In 2020, Harrogate Spring become the first company in North Yorkshire to win B Corp accreditation which is awarded to companies who meet the highest standards of social and environmental performance, transparency, and accountability.
Let's raise a glass of the world's best water to Forecast 5, who continue to provide first class budgeting and forecasting solutions around the world.
Check out our website or contact us directly to see how we can help your business forecast for the future or download a FREE, no obligation trial today.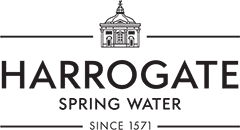 Website: www.harrogatespring.com
Contact: Damien Wilkinson
Role: Finance Director
Date established: 1571
Type: Bottled Water
Based: Harrogate, Yorkshire